Featured Artist: Kris Kuksi
July 23rd, 2007 by Gabrielle Faust received
No Comments »
One of the most powerful new voices in the emerging artistic movement entitled Fantastic Realism is the international, award-winning genius Kris Kuksi. The intricacies of Kuksi's works bridge the dark caverns between human psychology and demonic fantasy, causing one to become disturbingly entranced within the layers upon layers of wickedly defined detail. It is a brutal sense of beauty which one could spend years exploring, both profoundly current and socially conscious. Drawing from a variety of medias to create his three dimensional pieces, Kuksi sculpts a tangible representation of our deepest nightmares, that which society hesitates to address in this age of political correctness. Honest and raw, yet delicate in a way only death can be.


From his site: "His works share his thoughts on psychological issues, religious ideology, and aesthetics. Yet he never strays from the honesty within himself though he has had to shed many masks in order to do so. He finds the materialistic world of popular culture as the food for self-indulgence, self-escapism, and shallow-heartedness. Kuski is obsessed with exposing the illusions we created as a result of fear in our minds…"


Kuski was recently featured at the Cologne Art Fair (Germany), the Lineage Gallery (Pennsylvania), the Strychnin Gallery (Germany), and the Moss-Thorns Gallery of Art (Kansas). For more information on Kris Kuski and his work, please visit http://www.kuksi.com/. He can also be found through his Deviant Art page of http://kuksi.deviantart.com/.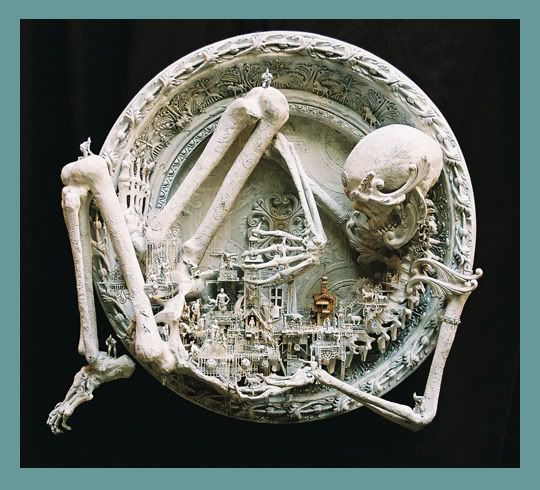 Posted under:
Artwork & Artists