Numbers this SATURDAY!!!
September 18th, 2008 by Gabrielle Faust received
No Comments »
Yes, yes, we are THAT insane! The fabulous goth event starring Voltaire, with an opening reading from ETERNAL VIGILANCE by yours truly, will go on this Saturday as planned! What? A little hurricane? The universe thought it could discourage we dreamers from our artistic pursuits, but we prevailed and now we shall celebrate with a night of literature, music and good drinks for all! Please help us to spread the word far and wide! Numbers has electricity and will be opening, from what I have heard, a little earlier than usual (7:30 pm) since they know people will be itching to get out of their homes after a week of intense city curfews. However, the show is still scheduled for 9:30pm. As I mentioned earlier this month, I will be donating 10% of all ETERNAL VIGILANCE sales to Habitat for Humanity now through the end of 2008 and that includes events such as the one at Numbers! You absolutely MUST join us for this night of revelry! The Gulf Coast has survived yet another horrific storm…let us come together to share a moment and embrace life as only goths can do so well, for in the end, it is death and tragedy that remind us how beautiful each day can truly be. Blessed be.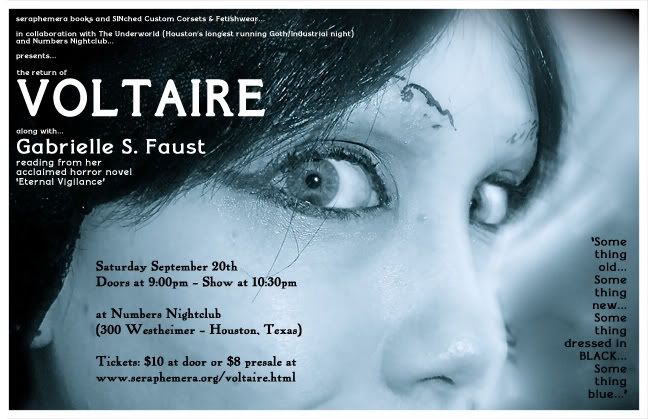 Tags: Eternal Vigilance, Gabrielle Faust, Houston, hurricane, Ike, literature, Music, Texas, Voltaire
Posted under:
A Word From Gabrielle Faust
,
Eternal Vigilance Events
,
Eternal Vigilance Fandom
,
Horror