"STORIES FROM THE PLAGUE YEARS" Cover Art
August 14th, 2008 by Gabrielle Faust received
2 Comments »
This has been a VERY productive week, thus far. Last night I put the finishing touches on the illustration for the wraparound cover of STORIES FROM THE PLAGUE YEARS! STORIES FROM THE PLAGUE YEARS is the forthcoming collection of horror and dark science-fiction stories from Michael Marano, The Bram Stoker and International Horror Guild Award-winning author of DAWN SONG. This beautiful hardback will contain: Marano's controversial "Burden"; two never before published works "Displacement" and "Shibboleth"; a continuation of the War in Hell epic begun in Dawn Song, "Winter Requiem" (in its longer version serialized on Gothic.Net), and other apocalyptic dark visions realized in Marano's distinctive, poetic style…


I am VERY pleased with the way it turned out. This collection will be published by Cemetery Dance and, I believe, it is supposed to be released at the end of the year if all goes according to plan. I have also completed 4 interior pen and ink illustrations for the sections. For more information on STORIES FROM THE PLAGUE YEARS please visit http://www.myspace.com/storiesfromtheplagueyears.


I have placed a watermark over the center of this illustration to protect it from e-art thieves…that's what the white text is…annoying but necessary for this post.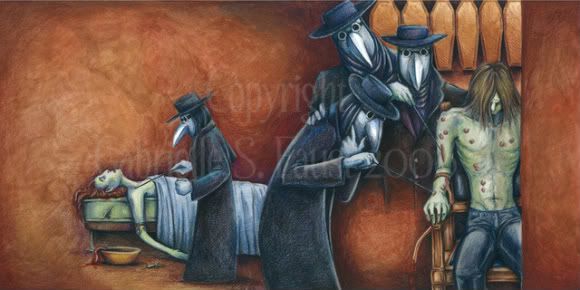 Tags: Artwork & Artists, book, Cemetery Dance, Horror, illustration, Michael Marano, Short Stories
Posted under:
A Word From Gabrielle Faust
,
Artwork & Artists
,
Books
,
Horror
,
Short Stories