TRU BLOOD & GOLD vampire ball almost sold out!
October 18th, 2009 by Gabrielle Faust received
No Comments »
Fabulous news reached the bat cave yesterday regarding the upcoming TRU BLOOD & GOLD vampire masquerade and the ENDLESS NIGHT vampire festival in New Orleans. The TRU BLOOD & GOLD party is almost completely sold out of tickets! There are only a couple left so if you're planning on going, now is the time to secure them or you might not be able to get in. There will be no tickets available at the door this year because we are at maximum capacity for the venue. The ENDLESS NIGHT festival is nearing the sold out mark as well with over 90% of the tickets, including the VIP packages, sold. Again, I urge you not to waste time if you are planning on partying with the vampires this year in New Orleans! To find out more information visit the below links:


TRU BLOOD & GOLD


ENDLESS NIGHT


I hope to see you in the French Quarter!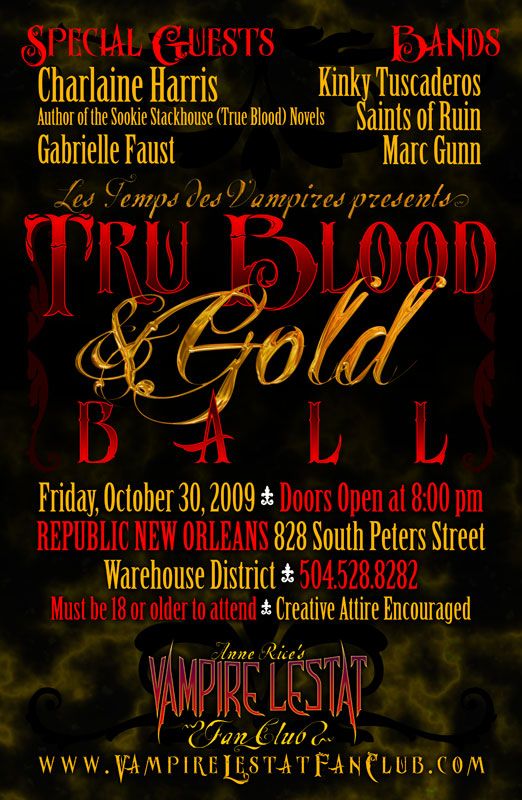 Tags: Anne Rice, Charlaine Harris, Endless Night, Eternal Vigilance, festival, french quarter, Gabrielle Faust, Halloween, Horror, Louisiana, masquerade, party, Sookie Stackhouse, ticket sales, tickets, Tru Blood, Tru Blood and Gold, True Blood, Vampire Lestat Fan Club, vampires
Posted under:
A Word From Gabrielle Faust
,
Conventions & Conferences
,
Eternal Vigilance Events
,
Horror
,
New Orleans
,
Vampires & Vampirology