Win a $50 gift certificate to Obscuria.com!
October 8th, 2009 by Gabrielle Faust received
1 Comment »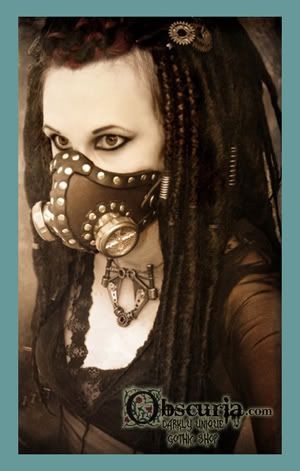 This month I have teamed up with the uber-fabulous steampunk/goth website Obscuria.com to bring you a brilliant new giveaway! How does a $50 GIFT CERTIFICATE to the online store sound? There are tons of ways for you to enter, but, remember, you must let me know of your entry by leaving a comment here on this site or, if you are tweeting the information, using @VampireFaust so I am alerted to your entry.


1. Purchase a copy of either Eternal Vigilance: From Deep Within the Earth or Eternal Vigilance: The Death of Illusions. Email me a copy of the receipt. Purchases may be made through any online retailer, the ETERNAL VIGILANCE website (click here) or through your local book store. For book store purchases, scan your receipt and email it to me as a JPEG or PDF attachment.


2. Tweet or post information and links on your MySpace page, Facebook wall or personal blogs to either of the "Book One" or "Book Two" pages of this website talking about the Eternal Vigilance vampire series! If you are Tweeting the links be sure to use @VampireFaust to alert me of your entry. If you are blogging the information or posting it on MySpace or Facebook, email me about the post or leave a comment here with a link to your entry. Here are the links:


Book One: http://www.gabriellefaust.com/about-the-book
Book Two: http://www.gabriellefaust.com/about-book-two


3. Post on your blog, MySpace page or Facebook page the video for, or tweet on Twitter a link to either of the ETERNAL VIGILANCE book trailer videos. The links are below:


Trailer 1: http://www.youtube.com/watch?v=WA9y1IapDjI&feature=player_embedded
Trailer 2: http://www.youtube.com/watch?v=RTAAukZA0Kk&feature=player_embedded


4. Tweet or post on MySpace, Facebook or your blog information about the TRU BLOOD & GOLD vampire ball, ENDLESS NIGHT vampire festival or my book signing a BOUTIQUE DU VAMPYRE on OCTOBER 29th (3-7pm). Here are the links you will need:


TRU BLOOD & GOLD VAMPIRE BALL
www.vampirelestatfanclub.com


ENDLESS NIGHT VAMPIRE FESTIVAL
www.endlessnight.com


BOUTIQUE DU VAMPYRE
www.feelthebite.com


5. Tweet or blog about Obscuria.com! www.obscuria.com


6. Tweet or blog about SCARE for a CURE: www.scareforacure.com


Remember to leave a comment on this website or email me with a link to the post where the video is featured or, if you're tweeting about it on Twitter, use @VampireFaust in the tweet to alert me that you have done so!


There is no limit to how many times you may enter over the course of the next four weeks! You must follow the guidelines carefully. Any entries that do not qualify in one of the above four ways will not be accepted. All entries will be printed at midnight on October 25th and a winner will be randomly drawn! The announced winner must claim their prize by October October 31st. If the prize is unclaimed a second drawing will occur. Good luck and may the best vampire win!
Tags: Charlaine Harris, contest, Endless Night, Eternal Vigilance, fashion, Gabrielle Faust, giveaway, goth, Halloween, Horror, New Orleans, Obscuria, promotion, shopping, Steampunk, Tru Blood and Gold, True Blood, Vampire Lestat Fan Club, vampires
Posted under:
A Word From Gabrielle Faust
,
Contests & Promotions
,
Eternal Vigilance Events
,
Eternal Vigilance Fandom
,
fashion
,
Horror
,
New Orleans
,
Vampires & Vampirology