5 Questions, 5 Authors: Lincoln Crisler
January 29th, 2008 by Gabrielle Faust received
4 Comments »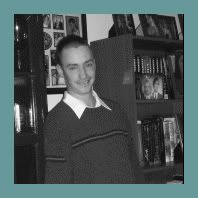 Today's e-interview is with Lincoln Crisler, a horror, fantasy and science fiction writer from Rochester, NY. Since July 2006 his fiction has appeared in a variety of print and online venues. Crisler is a member of the International Order of Horror Professionals and has contributed to their newsletter, the Bloodied Quill. His editorial debut, Our Shadows Speak, is available in print and electronic formats; he is currently accepting submissions for two new anthologies. Lincoln is also a contributing writer at The Horror Library. His first book, a short story collection entitled Despairs & Delights, will be available this year from Arctic Wolf Publishing. Crisler is married and has two daughters and a son. He is a veteran of both Operation Iraqi Freedom (04-05) and Operation Enduring Freedom (06-07). He currently serves in the US Army and is stationed at Fort Bliss, Texas.


1. What drives you to write?
The stories themselves drive me. Sometimes I'll be working or just going about my routine and an idea will jump on my back and rip at my hair like a rabid monkey on coke until I start writing the story. Out of my entire life, I've only been without the urge to write for the five-year stretch I was with my ex-wife. I've always loved reading stories, and I've been a writer of some sort of another since I could hold a pencil.


2. What do you consider to be your most significant accomplishment?
My most significant accomplishment is my upcoming collection of short work. Despairs & Delights will be available soon from Arctic Wolf Publishing. A lot of writers don't get any interest in collections until they have a novel or two under their belts, but I'm really passionate about these little stories I've sown here and there, and my tenacity finally paid off. I pimped this manuscript out for a year before I heard something other than, "This is good stuff, but collections by unknowns are unmarketable." I already have material in the works for a second collection, and in a couple of years I hope to get some mass-market interest in collecting the two books together with an unpublished novella or two and going from there.


3. Outside of writing, what are your other passions/interests?
I play bass guitar and drums, and I'm willing to sing after a few beers: any musicians reading this in El Paso, hit me up! I am the Geek of Geeks with regard to comic books. I'm a computer nerd and a fairly decent web designer. I'm also a communications specialist in the US Army; since 2000 I've spent a year each in Korea, Iraq and Afghanistan in addition to various stateside assignments. I love spending time with my wife and children, and on occasion I manage to work on my car with some degree of success.


4. What is your advice to young writers/first time authors?
Take all the advice you hear with a grain of salt. Some people will say that self-publishing your books is evil, for instance; I won't say that but I'll discourage it. Others will back up their pro-self-publishing stance with their own success. This is just an example, but everyone's mileage will vary on just about everything. Nothing anyone tells you is the Gospel truth, whether it comes from your favorite author, your shrink or especially me. Forge your own path, but do it with intelligence and purpose and own up to all the shit you do.


5. What do you want the world to remember you for the most?
Aw, Hell. As long as I leave behind some smart kids who don't raise idiots themselves, I'm good to go. Maybe I'll run for President in 20 years… I guess I'd be remembered for that. If I won. And especially if I got assassinated the day after I won. That would probably happen.


For more information about Lincoln Crisler please visit www.lincolncrisler.com or contact him at lincoln@lincolncrisler.com.




Tags: anthologies, author, Darkened Horizons, Horror, International Order of Horror Professionals, Interviews, Lincoln Crisler, Our Shadows Speak, Short Stories, The Horror Library
Posted under:
Horror
,
Interviews