"Rodents" by Gabrielle S. Faust
August 30th, 2009 by Gabrielle Faust received
2 Comments »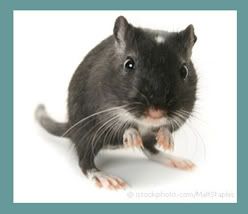 Rodents
Gabrielle S. Faust ©2009


Gerald opened his eyes to find the gerbils were encroaching.


From his place on the floor where he had fallen during his attempted escape, hitting his head solidly on the edge of the granite kitchen breakfast bar, he could see them inching into the room from the dark hall like starved lions stalking a wounded wildebeest. They trembled, mouths frothing, yellow buckteeth glinting maliciously, their tiny mutant bodies barely able to function enough to drag themselves across the tiles. They watched Gerald with eyes that appeared as if they had been plucked out, boiled and reinserted again, hollow and gray and lightless. Once upon a time, Gerald had been unnerved by the living rodents' beady black eyes staring at him through the side of his daughter's glass aquarium, little paws pressed against the clear surface, not pleading, but warning of a time when they would find their freedom. However, this was far worse than he ever could have imagined. When the epidemic had finally reached his small town, he had actually found it quite easy to escape the lumbering, moaning reanimated corpses that resembled his neighbors and, sadly, family. Even the livestock and larger suburban pets he had seemingly avoided with a relative adeptness, which even he had found odd. But it was the rodents that Gerald was beginning to see as his demise.


They had found him, zeroing in subconsciously somehow on his weakness, his deepest fear. They had sensed him, barricaded in his home, and came in droves, herds upon herds of millions of tiny furry bodies, those that were the result of pet store inbreeding allying with their wild, rabies-riddled cousins. Mice, rats, possum, squirrels, hamsters, guinea pigs and, yes, gerbils, the most despised rodent of them all, at least in Gerald's eyes. For nights they had lurched within the walls, thumping and clawing against the plaster and wood, their tiny nails screeching against the air duct grates as they chewed through electrical lines and PCV plumbing pipes. The sound had driven Gerald to the brink of madness until he would run to the windows only to witness the horrific nightmare sea of decomposing, scampering rodents covering every inch of the lawn surrounding his house. There was simply no escape.


Gerald had not been surprised when the gerbils had been the first to break through. He knew, even far before their zombified state, they had been planning this moment of revenge. They had always been bloodthirsty killers and now Gerald's paranoia had only been confirmed. Yes, perhaps it was not the circumstances that the gerbils had originally dreamed of, but Gerald was certain that even now, as they moved in for the kill, what whiskers remained twitching with evil glee, that they were still cognizant enough to remember and to rejoice. He wanted to move, he wanted to get up and run, but found himself entranced by the morbid site of his daughter's pet leading the gang forward even as more rodents of various species began to fill the hall in the shadows beyond the kitchen. This is what it had all come down to. Gerald would meet his maker at the paws of a five-dollar Petco gerbil named Clarabel, the same that had once rolled about the house in a clear plastic pink ball.


It was no wonder that rat hates me so much, Gerald thought.


He screamed as the rodents descended.
Tags: flash fiction, gerbils, hamsters, Horror, humor, rodents, short story, Zombies
Posted under:
A Word From Gabrielle Faust
,
Horror
,
Short Stories