Charity vampire ball for Flint, Michigan
August 17th, 2009 by Gabrielle Faust received
2 Comments »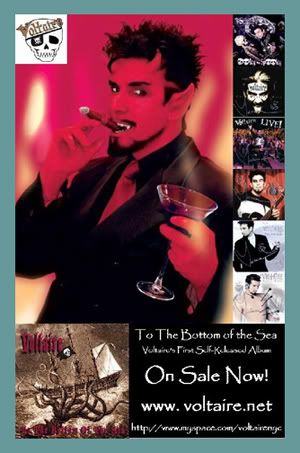 Vertigo Theatrics is hosting the Second Annual Vampire Ball on October 24th to benefit The Flint Farmers Market!


According to the VampChix blog:
"As you may know Flint, MI is an area that has been hit the hardest by the poor economy especially since we are "Vehicle City", the center of GM and the auto industry. Sure the corporate offices are in Detroit (which gets all the media attention) but most of the factories are in and around Flint, factories that now sit empty as do many homes and businesses. Flint is an area that once employed over 80,000 workers in the automotive industry but now employs less than 1,000. Our unemployment rates are one of the highest in the country as are foreclosure rates. Entire neighborhoods are becoming ghost towns. One of the remaining gems in Flint is our fabulous Farmer's Market which provides local farmers a place to sell their goods. This year will be the second annual Vampire Ball and we are hoping to make it bigger and better than last year's event."


This year's vampire ball include live Music featuring: Voltaire with special guest Hellblinki, and Bellamorte with special guests Ego Likeness and Versailles. The night will be filled with dancing, gothic belly dancers and a cash bar serving: Blood Light, Vampire Wine, The Bloodbath and the Vampire Kiss Martini! Hors d'eouvres will be served for you to munch on and psychic readings will be provided for those seeking a glimpse into the future! And, new this year, there will be Photo Ops available! Don't miss this fangtastic event!


Tickets are only $20 in advance/$25 at the door (click here). Don't wait…the 2008 Vampire Ball was SOLD-OUT! Doors open at 7:30pm.


The Flint vampire ball is also seeking donations from vampire authors in the form of copies of their novels to be used as prizes. They are also in need of other donated items for prizes which can take the form of any gothic or vampire related merchandise. If you are interested making a donation, or in setting up a table to sell and sign your books and wares, please contact Ilona Curry at ilonacurry@hotmail.com.
Tags: belly dancer, chairy, flint, halloween. fundraiser, Horror, michigan, October, vampire ball, Vampire Wine, vampires, Voltaire
Posted under:
Conventions & Conferences
,
Horror
,
Vampires & Vampirology