Anna Friel as Elizabeth Bathory
July 28th, 2009 by Gabrielle Faust received
No Comments »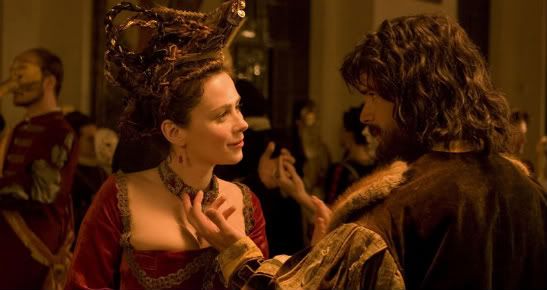 Thank you to Vampire News for spying this little known film about history's most notorious female serial killer Elizabeth Bathory, starring Anna Friel. This is one movie that has completely slipped under the radar here in the U.S. though, according to the Guardian UK:


Friel spends over two hours wielding swords, torturing peasants, surviving poison plots and making love to Caravaggio (yes, the Italian painter) to protect her land. The Blood Countess, the film suggests, didn't in fact spend her time in a tub of the red stuff – that was just an evil rumour spread by jealous chaps lusting after her fortune.


Scenes are bathed in a gothic atmosphere that tops every Dracula movie you've seen. The pan-European cast, among them Franco Nero from Italy, Hans Matheson from Scotland and Karel Roden from the Czech Republic, ham it up with glee, while Friel rolls her r's in an interesting attempt at a local accent.


Directed by Slovakia's Juraj Jakubisko, the £9.5m Czech-Slovak-Hungarian-British production is the most expensive movie ever made in central Europe. Thankfully for its producers, Bathory has been a commercial hit – topping the Czech box office for the past month and breaking records in Slovakia.


Unfortunately, the official movie site is in Czech, but if you by chance are literate in Czech, do check it out (and please let me know what it says). The online gallery reveals the exquisite visual lushness of the film, however, the trailer, which I've posted below, does not do it justice, I have the feeling. I found the below information on the IMDB site regarding Bathory:



The gruesome tale of Countess Elizabeth Bathory, notorious yet obscure, has been recounted by historians, writers, poets, playwrights, musicians, painters, and moviemakers. Tradition has it that Countess Bathory was the greatest murderess in the history of humankind, as documented by her entry in the Guinness Book of Records.She tortured her victims, exclusively women, before killing them. She bathed in their blood, and tore the flesh from their bodies with her teeth while they were still alive. But is that really true? In four centuries, no historical document has been found to reveal what had exactly happened. The plot of the film diametrically opposes the established legend.


Báthory is a European co-production film written and directed by the Slovak filmmaker Juraj Jakubisko. The filming started in December 2005, and the film was released in July 2008. This is Jakubisko's first English-language film.The film is based on the story of Elizabeth Báthory, a 16th/17th century Hungarian countess. Her story takes place in a part of the Kingdom of Hungary, now Slovakia. She is infamous for killing many young women because according to legend she thought that bathing in their blood would preserve her youth. Eventually the royal authorities investigated, and she was walled up in her castle, where she died three years later.


I'm definitely going to track down a copy of this film and soon!



Tags: Anna Friel, British, Caravaggio, Czech, Dracula, Elizabeth Bathory, film, Hans Matheson, historical drama, Hungarian, Karel Roden, Romania, The Blood Countess, trailer, vampires
Posted under:
Horror
,
Movies
,
Vampires & Vampirology
,
Videos