'Near Dark' vampire movie to be remade?
June 18th, 2009 by Gabrielle Faust received
No Comments »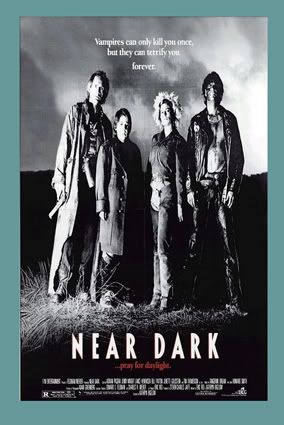 The Live Journal community Vampire Cafe posted the below list of current vampire film projects in the works, pulled from the Hollywood Stock Exchange website. It makes my blood run cold, the idea that one of my favorite vampire films Near Dark is being remade, but I suppose nothing really surprises me anymore…


Darksiders
Darksiders is the story of a special operations task force made up of vampires. Their immortal qualities come in handy when they go up against a bio-terrorist threat. Alison Rosenzweig and Tracie Graham produce the New Line film. Jonathan Hensleigh was previosuly attached to direct.


Near Dark
Rogue Pictures will remake the 1987 horror film Near Dark. A cowboy is chased by a roving group of vampires. Samuel Bayer directs with a script from Matt Venne. Kathryn Bigelow directed the original which starred Bill Paxton and Adrian Pasdar.


And these in development…


Castlevania
The horror adventure Castlevania is based on the videogame franchise from Konami. Simon Belmont comes from a family of vampire hunters. He and his cohorts go after Count Dracula to make sure the vampire doesn't lay darkness across the land. The Rogue Pictures release is written by Paul W.S. Anderson and directed by Sylvain White.


Dark Shadows
Based on the 1960's television series, Dark Shadows follows a vampire's various adventures with other creatures of the night like witches, werewolves, ghosts and other assorted monsters. Johnny Depp is producing and may take the lead role of Barnabas Collins. John August and Dan Curtis worked on the script. Tim Burton is rumored as the director.


Dracula Year Zero
Universal's horror film Dracula Year Zero looks at the life of Vlad the Impaler during the height of his powers. Vlad was known in Romania for fighting off the Turks and is supposed to have sold his soul to the devil to save his kingdom. Alex Proyas directs the film with a script from Matt Sazama and Burk Sharpless.


In production…


Cirque du Freak
The popular children's story Cirque du Freak by Irish author Darren Shan gets a big screen adaptation from Oscar-winning writer Brian Helgeland. The story centers on a young boy who meets a vampire at a freak show and joins him on the road, intending to become a vampire himself. Lauren Shuler Donner produces for Universal.


Dead of Night
Brandon Routh will take on the role of another comic book hero in Dead of Night. Dylan Dog is a private eye who hunts down monsters and the undead in London's underbelly. The graphic novel was created by Italian writer Tiziano Sclavi and published in 1986. Kevin Munroe directs the Omnilab Media film with a script from Thomas Dean Donnelly and Joshua Oppenheimer.
Tags: Castlevania, Cirque du Freak, Dark Shadows, Darksiders, Dead of Night, Hollywood Stock Exchange, Movies, Near Dark, remake, Vampire Cafe, vampire films
Posted under:
Horror
,
Movies
,
Vampires & Vampirology