'STAR TREK' in a legion of its own!
May 14th, 2009 by Gabrielle Faust received
1 Comment »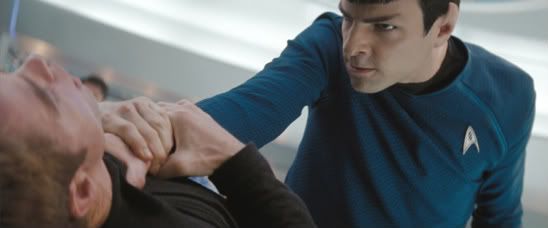 When I first heard that J.J. Abrams was crafting a new STAR TREK movie, I was a bit skeptical. After all, how could anyone truly top the already monumentally culture-altering four decades of sci-fi legacy? For weeks I have tried desperately to turn a deaf ear to the tsunamis of gushing praise other critics have been heaping upon Abrams and his new film in hopes of walking into the theater with reasonable expectations and an open mind. And perhaps it is this effort that allowed me to be completely and utterly floored by the true impact of Abram's interpretation. From the moment the first scene began to the final adieu, every preconceived notion, every doubt I might have had about Abram's ability to bring to life a world he is admittedly not even a die-hard fan of, was obliterated by my racing pulse and childish delight! Perhaps I have become a bit jaded over the years, but there are very few films nowadays that I find myself doing the "happy dork dance" (as I have termed it) in the parking lot afterwards or nearly killing myself racing out in the middle to the restrooms, trying not to miss a minute too much. Yet, I admit, I found myself doing both of these things at last night's viewing of STAR TREK. Instantly, I was six again, watching THE SEARCH FOR SPOCK with my father; I was eight, begging my mother to take me to THE VOYAGE HOME because I had finally learned how to control my fingers to do the Vulcan greeting of "Live long and prosper". Tonight I was squealing with delight at the battle scenes and cheering aloud at the victories, I was curling into my seat at the sight of the Romulan truth slugs and holding my breath at the idea of Kirk being sucked off the edge of the Romulan drill into a stream of fire. Indeed, Abrams has breathed a revitalizing new spirit into the world that sculpted the lives of so very many sci-fi fans around the world and, no doubt, will henceforth cultivate an entirely new generation of Trekkies to pass on the tradition for many years to come.


In reflection there is absolutely nothing bad I can say about this film. It is, in a word, superb. The directing was pure genius, the cinematography was awe-inspiring and the pyrotechnics, simply mind-blowing. However, what I was most impressed with was the cast. I cannot imagine the pressure these actors must have been under to step into the roles of such idolized characters. Yet, every single actor embraced the true spirit of the original role a with passion and dedication that showed they took their participation in the STAR TREK legacy seriously and understood the scrutiny they would be under from the legions of Trekkies and critics that would be viewing the film en mass. It was not as if they were attempting to duplicate the original actors verbatim, but they each, in their own way, grasped the vital essence of their assigned character with a poetic ease that made their performances not only believable, but wholeheartedly embraceable and memorable. Of course there will never be another William Shatner or Leonard Nimoy, DeForest Kelley or George Takei, but that was, I must say with the greatest of respect, a STAR TREK of another time. The new cast of STAR TREK takes the best of the previous world and merges it with a bold, sexy, sophisticated modern persona resulting in sci-fi cinema perfection at its best. Kirk (Chris Pine) is rebellious and alpha-sexy, Spock (Zachary Quinto) is given a gripping emotional depth and romantic prowess never thought possible from a Vulcan, and Scotty (Simon Pegg) is more dynamic and spontaneous than previously imagined, a true Scottish loose-cannon of engineering. And this is only to name a few of the legacy-defining roles within this latest sci-fi epic. The entire cast is absolutely brilliant and I can only pray that this is the beginning of several more new STAR TREK movies to come!


Dear gods…did I just pray for sequels? Someone mark this on the calendar…


The intelligently witty performances of the cast were layered upon an awe-inspiring backdrop of dazzling sets and mesmerizing CGI depictions of outer space and planets, such as that of Vulcan. Gone are the old days of model ships on clear strings. Every detail of this film, from the depiction of a supernova to the construction of the Enterprise itself, is flawless, a tangibly realistic imagining that has definitely raised the bar of the entire science fiction cinema world to a new level. The instant the Romulan ship appeared from the black hole before the Enterprise, there was a collective gasp from the audience as the ominousness of its massive, Geiger-esque gothic presence stunned moviegoers into an even deeper quiet. Indeed, throughout STAR TREK, the audience was drawn further and further into the movie, becoming so completely wrapped within its world that when it ended, very few rose to leave immediately, but stayed behind discussing the film in voices fevered with excitement and an expressed desire that the movie hadn't ended at all.


No matter if you are a tried and true, blue-blood Trekkie or an individual with absolutely no experience with science fiction, you will, most definitely, enjoy STAR TREK. And I would highly suggest checking it out in an IMax theater if possible, which I plan to do very soon. I can only imagine what that Romulan ship will look like at 20 feet high!


Live long and prosper!



Tags: J.J. Abrams, James T. Kirk, movie review, Romulan, Science Fiction, Spock, Star Trek, Vulcan
Posted under:
A Word From Gabrielle Faust
,
Movies
,
Reviews