Paranoia Horror Film Festival to Host 'Viscera'
January 30th, 2009 by Gabrielle Faust received
No Comments »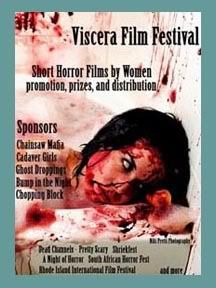 The Paranoia Film Festival, the world's largest Horror Convention & Film Festival held aboard the World Famous Queen Mary in Long Beach, California, will be doing a special screening of the "Viscera Film Festival", followed by a Q&A with Shannon Lark and Heidi Martinuzzi. VISCERA is run by The Chainsaw Mafia's CEO and Fangoria Magazine's 2009 Spooks model, Shannon Lark. She developed the Festival after directing a horror film consisting completely of a female cast and crew. The VISCERA films have been played worldwide and garnished several awards for the chosen filmmakers. The Chainsaw Mafia was created and executed by women, and they strongly believe that more women should jump into the gigantic bucket of blood and guts. The Mafia's VISCERA Film Festival gives recognition through participating sponsors, awards, and distribution for today's female horror filmmakers making a difference in the genre.


The Paranoia film festival will be held this year from March 13-15. As a recognizable force in the genre of Horror, Paranoia's goal is to find the next great thing in horror each and every year. At the festival will be a multitude of activities including full length feature film and short film screenings, Celebrity Panel Discussions with Q & A, Paranoia Ghost Tours of the haunted Queen Mary, and an amazing Dinner of the Dead.


Paranoia Festival Day Pass (All Inclusive Pass): $40/day
This is an all-inclusive day pass to view all screenings and Q & A Panel Discussions. Panel Discussion hosts will be named at a later date, but will include some of horror's most established and respected filmmakers, writers, and directors. You will have access to view all trailers, shorts, and full-length feature films. Buy Tickets


For more information visit http://www.paranoiafest.com/.


Tags: California, Fangoria, festival, film, Horror, The Chainsaw Mafia, Viscera Film Festival
Posted under:
Conventions & Conferences
,
Horror
,
Movies